Website refresh for UK based trees charity
Yet again I've been busy behind the scenes working on numerous websites and forgotten to keep the website updated! Recently we rebuilt the website for Future Trees Trust, a charity working to improve and protect broadleaved tree species. The new website runs super fast and is now kept up to date with a clean look. Read more about the FTT website.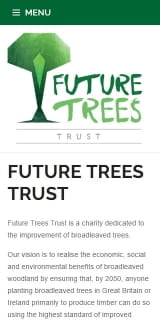 Posted in Portfolio on the 6th June 2016 at 2:15pm.