Website for Future Trees Trust
Website since replaced. See details below for the website I designed in 2016.
Future Trees Trust is a charity working to improve and protect broadleaved trees. Their existing website was disorganised and outdated. We rebuilt the website from the ground up focusing on their existing branding and website theme, making sure the website worked consistently and ran smoothly.
Website features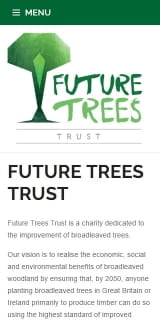 It's brilliant to know that, at long last, we have a website that can be updated regularly, is responsive, and works properly. Well done!