Making your website mobile
The number of users accessing the web on smartphones and tablets is increasing rapidly, and a vast majority of websites still do not support mobile devices!
To make your website compatible with mobile devices, we can produce a "responsive design". A responsive design is one that alters its layout depending on the size of the screen it is being viewed on.
Some websites have a completely separate mobile website which repeats the content of the main website. At PrimeBox we believe it is important to keep your website and brand consistent, so why mess users around with different experiences just because they use different devices?
Regardless of the size of your website, it can be given a responsive design to make it cross device compatible.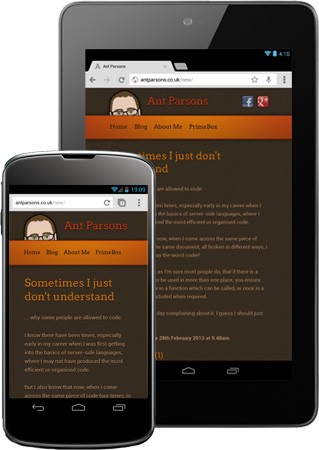 Whether you want a new website design or are just looking for your existing website to be updated for mobile users, contact us.
The PrimeBox website is an example of a responsive website design. Try it out! If you're on a desktop or laptop, resize your browser window and watch the website change it's layout to best suit the size of your window.
Contact us to find out more
In building our church website Ant listened well to our requirements and came up with alternative designs for us to consider. He demonstrated expertise in making refinements as requested, gave helpful advice in creating the content and continues to give invaluable support in managing the website. Janice, Youth Worker