After 3 months, my Raspberry Pi finally arrives!
Well, considering how long the RPi was in the post, I am pleasantly surprised by the lack of mould and foul smell.
I made sure I did the most important thing first with the RPi; sit and examine it for a long time. Second most important thing, plugging it all in and seeing if it will work!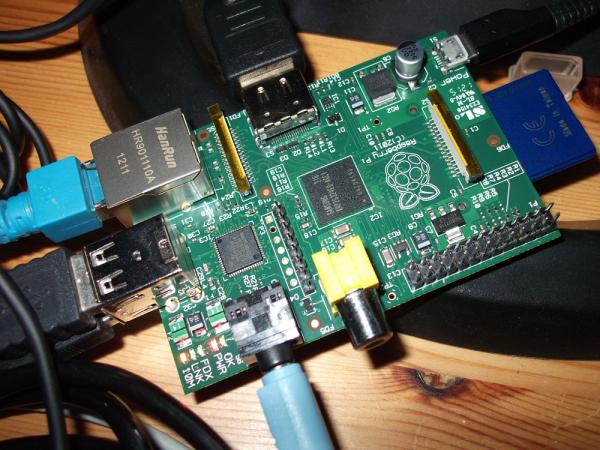 It is a bit of a shame that they couldn't find a good way of getting all of the ports around one or two sides, rather than all four. With trying to tidy the cables so they weren't sprawled all over the desk, the RPi seemed to disappear under the "tidied" pile.
It turned on, it asked me to log in, I logged in, hurray! Now what to do...
What should I do?
Now the reason it took a while for me to post that it had arrived was because I had a bit of a lapse in the ideas section of my head.
I've come up with three options:
Get sound and video working as best possible then sit it by the side of the TV
Set it up as a very small Apache server (Why? Why not!)
Sit and look at it some more.
Nothing too exciting there really. Ultimately, the purpose of the Raspberry Pi is to allow a cheap platform with which people, and school children especially, can learn more about computing and actually programming something instead of just learning the ways of word processing over their 12-14 years of education.
I suspect if I come to learn Python or another language, I will probably do it from my main Windows machine, simple because it does everything I need faster than the RPi (And I'd hope so with the price difference!).
But the Raspberry Pi is the first time I've really had a Linux machine, and I hope to get a bit more intimate with the OS in the following months and years.
Posted on the 2nd June 2012 at 2:17pm.