Website design for Cadenza Academy
Cadenza Academy of Performing Arts is a new business offering evening classes, courses, and summer camps. They wanted to cover all bases in terms of getting an online presence and getting their name out into the industry.
Cadenza Academy wanted a darker website so that the content and features such as their logo would stand out. Additional content such as the calls to action (Dark grey with images) and latest news are shown in darker boxes in the content area to help them stand out.
They are planning to start teaching courses in schools and colleges from September 2013, and want to make sure they manage the students, work, and timetable efficiently. In the future Primebox will be developing a Course Management System, where all staff will be able to manage the above from one central secure place.
Features
Blog
Dynamic and customisable calls to action
Website no longer live.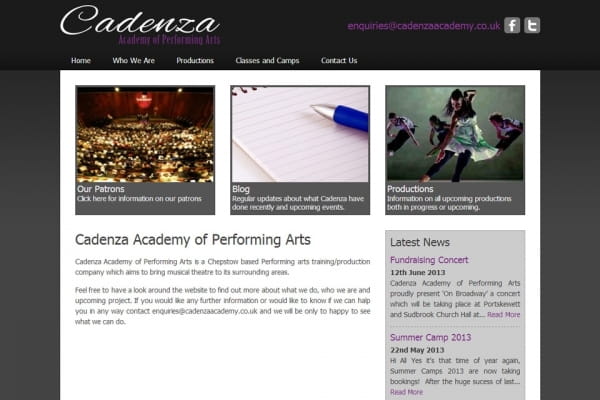 The website turned out much better than we had hoped. Ant took our original ideas and was very helpful in talking us through what options we had any also brought lots of ideas to the table we hadn't thought of ourselves. The website has given us an internet presence we are very proud of.