Features of PrimeBox CMS
PrimeBox CMS is our bespoke content management system we've developed over a number of years. We recently completed version 2.0, the features of which are shown below.
Managing pages
In version 2.0, we completely rewrote the system to make sure it was as efficient as possible. We also made sure that we improved how page content was managed and stored.
For every page there are two entries stored; one is for editing and the other is live and visible to the public. As a result of this new system, you can preview your edited content before it goes live.
Depending on the setup of the CMS, an archive can be set up allowing multiple versions of the page to be stored. Should there be any need to retrieve one of the archived copies, this can be done quickly and easily.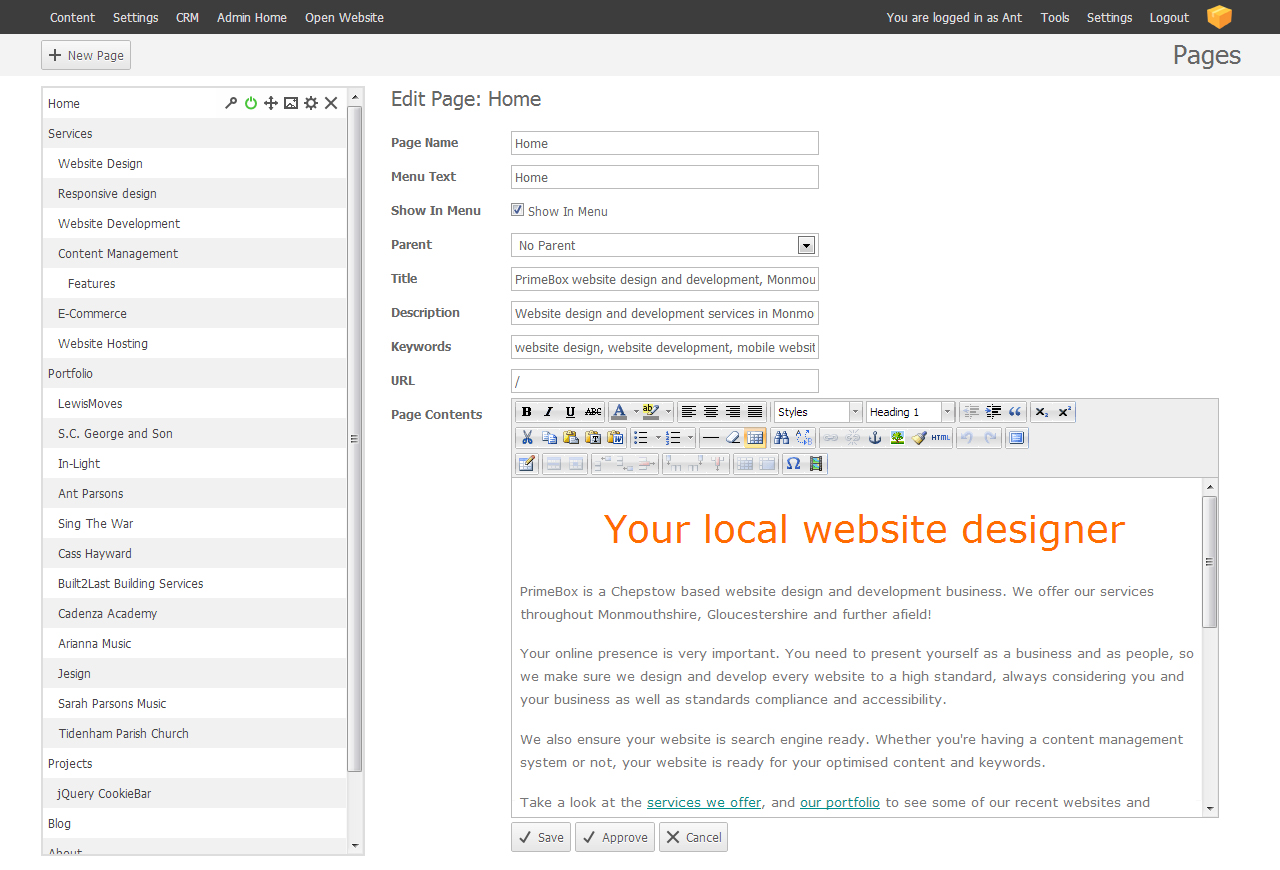 File management
Back in version 1.5, we developed a new image and file manager which made it easier to manage your images and files anywhere within the system.
It also takes advantage of HTML5 uploading, allowing multiple files to be uploaded at the same time with individual and overall upload progress. Before HTML5, the best (but still terrible) method for uploading multiple files with progress used Flash, meaning little or no support for iOS and Android devices.
We have taken this file manager and used it as the default file manager throughout the entire system, meaning you get the same experience whether you're trying to insert an image into a page or upload images for a gallery.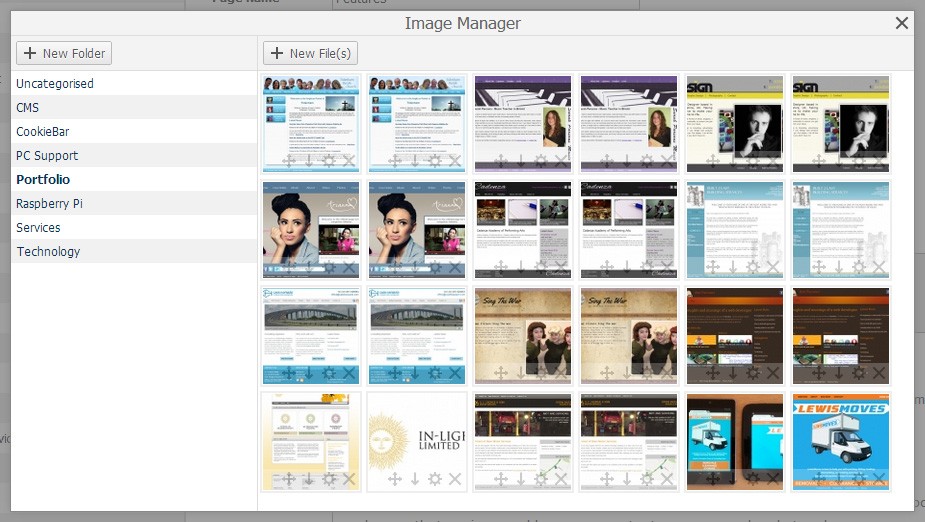 Mobile support
Previously, there were two modes within our CMS. One was the standard mode, the other was "touchscreen mode". This made some small changes to the CMS making it easier to use on smartphones and tablets.
As we have done an entire rebuild for version 2.0, we decided we would give the CMS a responsive design. It now adapts to fit different screen sizes and resolutions, making it incredible easy to manage your website from anywhere you have an internet connection.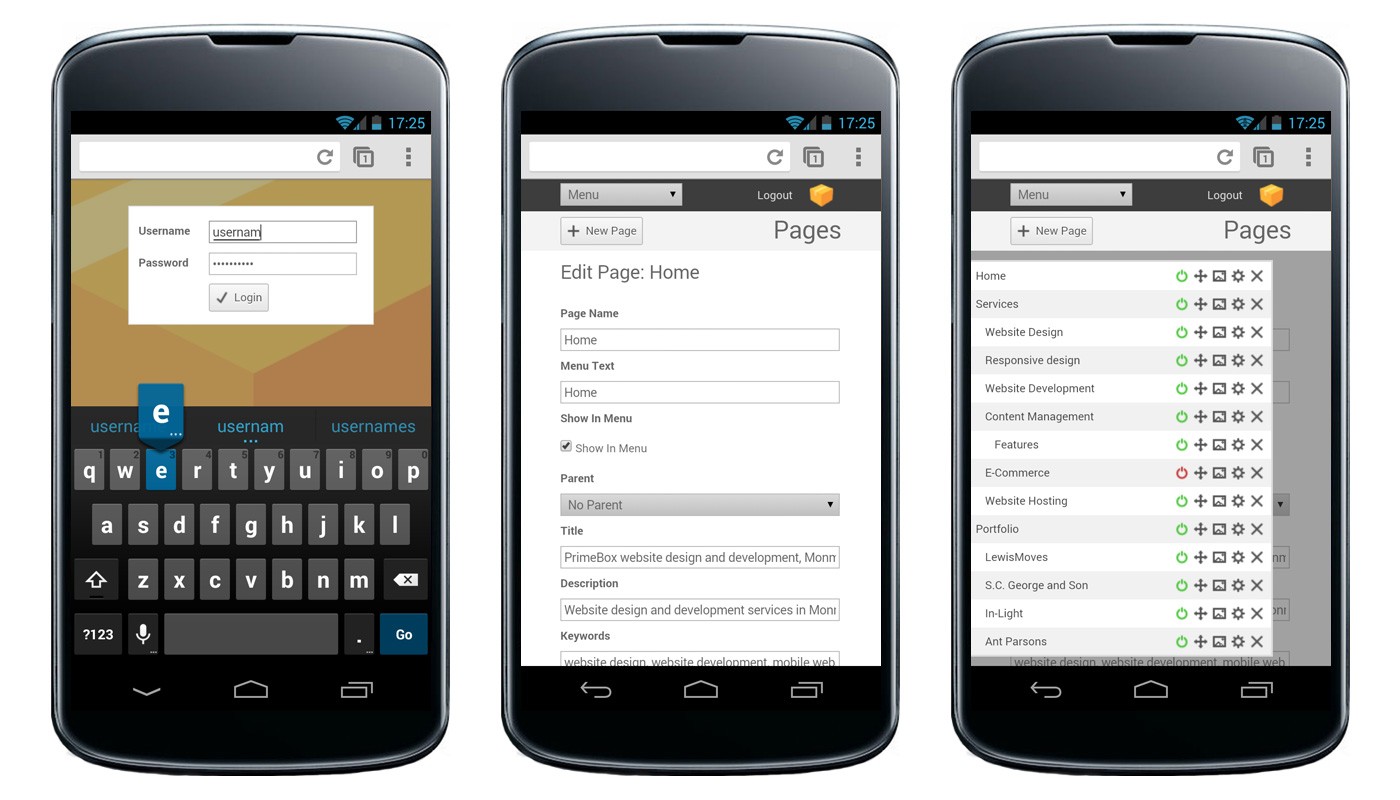 Users and usergroups
We have improved the users and usergroups system within the CMS. If you need to have several people accessing the CMS, you can now set up a whole range of different access levels.
As well as giving users access to different modules inside the CMS, such as Pages or Blog, you can also, if required, set access to different actions in each module. For example, you could have someone who adds in new content which can only be put live once approved by another user. This level of access can be set up throughout the entire content management system.
Continual development
We want to make sure that we provide a content management system capable of providing all of your website management needs. All feedback from users will be considered for future versions of the CMS, as well as new and improved features from ourselves.
If you are interested in PrimeBox CMS, either for your own website or as a developer, please contact us and we'll be happy to discuss your requirements!
Contact us to find out more
My website has been a real blessing for my piano teaching business, helpful to both me and all my prospective pupils. I love the design and the CMS is very easy to use. Sarah Parsons